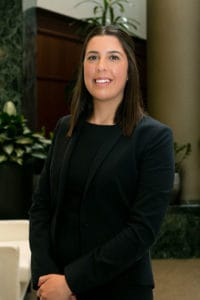 Molly Parato is an associate attorney at Frankel, Rubin, Klein, Payne & Pudlowski, P.C. with the estate planning and fiduciary litigation department. Molly provides clients with a broad range of solutions to estate planning challenges and fiduciary disputes. Molly has been able to utilize her trust and estate litigation experience to determine the most effective estate plan for each individual client. Molly's practice focuses on estate planning, wealth and business succession planning, trust and probate administration, and fiduciary litigation. Molly has administered probate estates and has worked on litigation matters involving will and trust contests, capacity issues, surviving spouse elections, and breaches of fiduciary duties.
During law school, Molly worked as a summer associate at Frankel Rubin Klein Payne & Pudlowski and as an intern in the U.S. Attorney's Office in the Eastern District of Missouri. Molly also worked as a student attorney in the University of Missouri's Entrepreneurship Legal Clinic where she advised startups in Columbia, Missouri and focused on issues such as entity formation and corporate governance. Molly was a member of the Tax and Transactional Law Society, serving on the Speaker and Site Visits Committee.
Molly earned her B.A. from Miami University and her juris doctorate from University of Missouri-Columbia.
While earning her J.D. at the University of Missouri, Columbia, Molly served as a Note and Comment Editor of the Business, Entrepreneurship and Tax Law Review. Molly received the Clarence G. Strop Prize for Best Work in Real Estate Finance and the Best Student Submission Award for her article published by the Business, Entrepreneurship and Tax Law Review. During her time in law school, Molly earned awards for excellence in Real Estate Finance, Real Estate Transaction, Secured Transactions, Business Organizations, Sports Law and Professional Responsibility.
Molly is a member of The Missouri Bar, the Bar Association of Metropolitan St. Louis, Bar Association of St. Louis County and the American Bar Association.
Areas of Practice
Civil and Business Litigation
Estate Planning
Education
2018 J.D., University of Missouri – Columbia
2015 B.A., Miami University
Bar Admissions
Missouri, 2018
U.S. District Court, Eastern District of Missouri, 2018
Publications
"Transportation Network Companies' Ability to Sustain Success amid Growing Regulation by Local Governments"
Business, Entrepreneurship and Tax Law Review, 2017